Brand awakening
Between tradition and innovation, today, Régis Ferrière Illuminations is a leader on its market. Every year, its know-how and its experience satisfy more than 100 customers through Europe.

Our team
Each day, our team works to make your Christmas an unforgettable event. Discover the backstage of our company.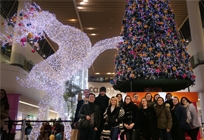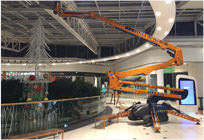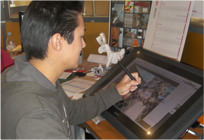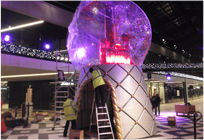 Our business team is your privileged contact which follows and coordinates your project. They make a personalized analysis and an adapted and quotation. Our marketing and communications department, develops benchmarks and brainstorming to define a creative strategy, an exclusive concept…

A business and Marketing
department

With originality and aestheticism, our design studio draws and animates concepts imagined for your Christmas projects. In house, we are more than 10 graphic designers who develop virtual views, animations, apps, 3D modelling and augmented reality. Each year, our studio imagines more than 500 creations and collections.

A design studio

We import our raw material to supply our research and development department. We guarantee European standards, the control of techniques and technologies. On the lookout for the lastest technologies, we developed a network of partners with more than 200 suppliers throughout the world.

A purchasing office

With a sharp technical approach, our designers create decorations by choosing harmonious materials, textures and lights. Each year, they are more than 100 prototypes created. All our products are verified and are certified. Visits on site and conception of technical files allow us to comply with existing standards.

A technical department

Our HR department's mission is to bring together, at the height of our peak season, more than 200 people, meeting all our needs. We recruit permanent positions (project manager, technical manager, marketing manager …) as well as seasonal positions (graphic designers, electricians, installers …).

A human ressource department

Our logistics department installs (and unistalls) our decorations on your site. Our logistic teams represent 115 experimented technicians. Every year, we organize the mounting and the dismantling on-site of more than 100 european customers, in secure and controlled conditions.

A logistics department

Régis Ferrière Illuminations designs and realizes decorations in its own factory of more than 15.000 m2. These structures are developed by respecting the current needs. It is near 150 skilled workers dispacthed in 14 differents departments which produce every year more than 4 000 products.

A manufacturing plat

The company has 2 warehouses specialized in the logistics of the Christmas decorations. They allow to dispatch decorations through Europe. They have also a professional and efficient maintenance unit which assure the sustainability of the decorations during all the years of your contract.

A storage and maintenance department

RFI International
Régis Ferrière Illuminations works also on an international level. For our custumers, our partners, our suppliers or our collaborators, we are open to the world which surrounds us.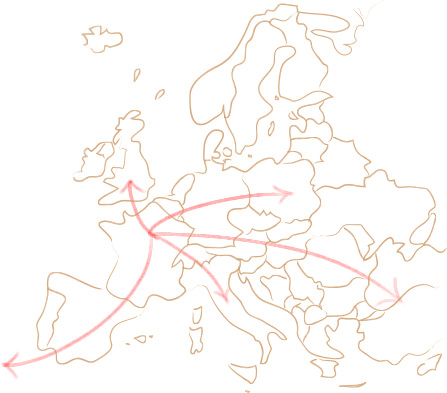 Our team
We choose local technicians with a huge adaptability. Professionnal and experimented teams, work – with the support of local partners – to offer you a turnkey project.
Logistics
We have an European logistical network which allows us to store and to procure the maintenance of all our customers. We also work with European carriers who deliver every year thousands of decorations for hundreds of customers in only a few weeks.
Suppliers
We developed a network of partners and suppliers allowing us to meet perfectly your demand. All in all, it is about 120 partners in more than 15 countries.